Cafés I like in Bhutan
By Ulrike Čokl
As an Austrian I appreciate the Viennese "Kaffeehauskultur" (coffee culture).  You can spend hours and even a full day in cafés, enjoying various types of coffee, cakes and snacks while reading a good book, jotting down your thoughts and working.
I was delighted when the first cafés opened in Bhutan's capital Thimphu. They finally provided a welcomed break from the instant coffee which I personally dread. At last I was able to get freshly brewed espresso and cappuccino and all sorts of snacks including sandwiches, burgers and fries. That was a good start. Whether you eat such fast food at home or not, when you live in a country like Bhutan for years and finally get to eat a burger, it can be a euphoric experience. This was over 10 years ago and in the meantime many cafés have mushroomed in Thimphu and in other parts of Bhutan. Karma's Coffee is still a great place but as a non-smoker I feel that having to pass through a room full of smokers on the way to the toilet is a bit of a downside. However, the place is worthwhile visiting!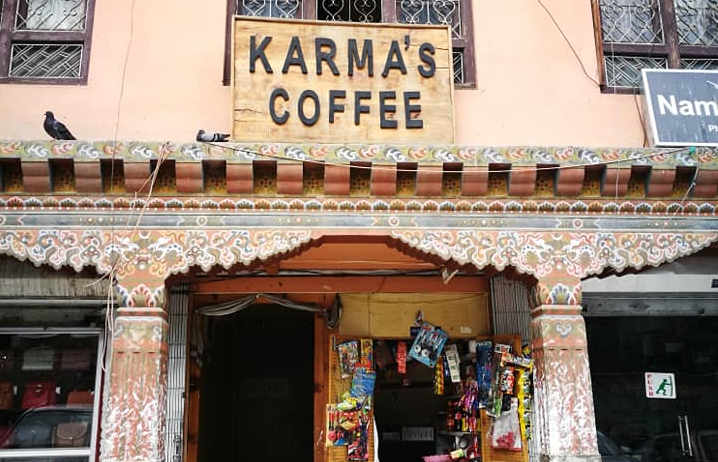 When Coffee Culture in Thimphu opened its doors at Changlam Square, I became a regular there. It has a sitting area outside which is nice during warm summer days. I have become addicted to the desserts, especially tiramisu, cheese cake and "ema datshi momos" (dumplings stuffed with chili and cheese).
A relatively recent asset is the new Brusnika Café in Lanjopakha, next to Ludrong memorial garden. The owners are a lovely Russian-Bhutanese couple with three adorable daughters who commute between Europe and Bhutan. You can get anything there from grilled chicken (fantastic!) to a variety of home-made cakes and bread (baguette!). The location is great and offers wonderful views of Thimphu Dzong, the Bhutanese parliament building and a public garden just below. At special occasions in winter you will even get "Glühwein" (hot wine with spices) here. This is clearly my new favorite.
Another place in Thimphu worth mentioning is Café Ambient at Norzin Lam in town. The owners are a lovely couple who support recovering addicts by training them at their establishment. They follow a strictly non-smoking and non-alcohol policy. The place is popular with the "chilips", foreigners who are tourists or expats, and the coffee is excellent and pastries are tasty. There are non-traditional food options, including vegetarian and vegan. An added plus is the free Wi-Fi.
These days the choice of cafés in Thimphu is considerable. What about other districts in west and central Bhutan?
In Paro I am a faithful customer of Brioche Café. The owner, Ms. Rupa Tamang, is a hard working woman and pastry chef at Aman resorts. Hot chocolate, coffee, tea and all sorts of pastries (anything with chocolate are my favorites!), this place offers whatever your sweet heart desires. I usually suggest visiting the café at the end of a tour when many guests are more than ready for something sweet and creamy.
On Thimphu to Paro highway, you cannot miss Your Café. It is a beautifully restored old mud house ruin, typical for the region. The café is part of the Neyphug Heritage Foundation and purely vegetarian. All the proceeds go to the private Neyphug monastery to support the monks there. At the premises you will find facilities for families with small kids and a meditation room. The place is worthwhile visiting just to see the structure.
In Bumthang I like Café Perk. Years ago, during my days in the field in Bumthang, it was with great pleasure that I welcomed the opening of this place in Jakar town. You get really good coffee here and the snacks include delicious pizza, grilled sandwich, spaghetti, and fries as well as salad. If you sit next to the window you can observe the main street where people are going about their chores. The owner is a lovely young woman who speaks fluent English.
Last but not least, there is a relatively new place in Jakar town, the Tea House Café, which I have yet to check out properly. If you happen to visit the place, please let us know what it is like!